There's no formal definition in regards to a Most Valuable Player.
The word "valuable" has several definitions, meanings, and synonyms, meaning there are several ways it can be interpreted.
That rings especially true in conversations like the one setting the NBA on fire this season regarding who will be bestowed with the Maurice Podoloff Trophy at the end of the year.
But to get to the end, let's start at the beginning.
The debate truly began when most people thought there wouldn't be one — before this season started, when Kevin Durant left Oklahoma City. Most NBA aficionados agreed this would be Russell Westbrook's year to shine in ways he hasn't before.
And he's delivered.
Through 62 games this season, he's averaging a career-high (and NBA-high) 31.7 points along with 10.7 boards and 10.1 assists, still on pace to become the first player since the early 1960s to finish a season averaging a triple-double.
How does a man with those kind of numbers not earn an MVP award, right?
But just as many fans were ready to hand the Trophy over to Westbrook, James Harden and the Rockets caught fire.
Not that anyone expected Harden to have a bad year, but who would have predicted he would challenge Westbrook in total triple-doubles for the year? The Beard quietly has 15 such performances, five of which he has scored at least 40 points.
Harden has played in the same number of games Westbrook has and is only two rebounds per game shy of averaging a triple-double himself.
And then the conversation became just that — a conversation.
Gone were the days when Westbrook was the clear favorite, especially because it's fair to include the success of a player's team when defining the word "valuable".
What value do you truly bring to your team if you can post incredible individual statistics but can't lead your team to wins?
The argument hindered Westbrook but glorified Harden, who now has the Rockets sitting in the 3-seed in the Western Conference with a 43-19 record.
But Westbrook, undeterred, helped turn the Thunder from a one-man wrecking crew into a legitimate playoff team. After starting the year 8-8, Oklahoma City now sits in the 7-seed with a 35-27 record.
And now the argument is that Westbrook has slightly better stats with a slightly worse win-loss record while Harden is just the opposite.
Voters will have to decide which they value more in a race that is clearly between the two unless somebody comes around and…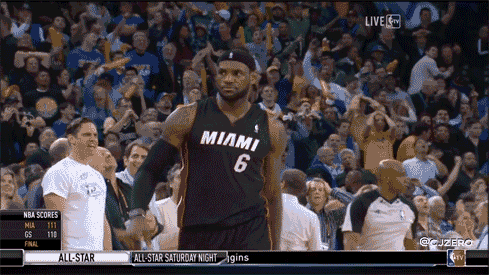 Alright LeBron, fair enough. We see you and you do make an interesting point.
It's almost hard to believe The King hasn't captured an MVP award since the 2012-13 season, but his string of success in the past month has catapulted him back into the conversation, right behind Westbrook and Harden.
It would be a near miracle if James came away from this season with the award, but his relevancy to his team simply can't be ignored.
The 32-year-old is having his best season statistically since re-joining the Cavs in the latter part of his career, with 25.9 points, 8.9 assists, and 8.1 rebounds per game.
But where he stands out above most players is his "value" to the team when comparing games that he's on the floor and games that he's not.
When James is on the court, the Cavaliers are +10 in points scored per 100 possessions, as opposed to being -4.7 per 100 when he's on the bench. Now add in the fact that the Cavs are winless (0-4) in games James did not play this year and 42-14 when he did.
The Cavaliers have not slipped from first place in the East since the season began and while Kyrie Irving can certainly take some of the credit, James is the centerpiece of the reason Cleveland is expected to go to the NBA Finals again this year.
So now voters must take into account that definition of "valuable" when looking to award their MVP.
But then if we are looking through that lens, it would be unfair to overlook and leave out Boston's Isaiah Thomas.
Thomas, the NBA's biggest little man at 5-foot-9, broke out this season and is averaging a career-high 29.4 points per game.
His importance to Boston was clearly underappreciated and undervalued until the second trimester of the NBA season.
During that 28-game span, Thomas scored 13.1 points per game in the fourth quarter alone, leading the Celtics to a 21-7 record and into the 2-seed in the East.
Dubbed "Mr. Fourth Quarter", Thomas' reliability makes him by far the most valuable player on Boston's roster and would probably make him the most valuable in the East if not for James.
Thomas also seems to play his best basketball when he's needed the most.
While many players struggle to play consistently well during back-to-backs on the NBA schedule, Thomas actually plays better with no days rest.
In 14 such games, he's averaged 32.7 points and 5.7 assists on Day 2 of a back-to-back, averaging 35.4 minutes in those games as well.
Maybe we should call him Mr. Endurance, too.
In the two games that Boston has kept him on the floor for more than 40 minutes, he's averaged 39.0 points and 7.0 assists.
If that's not valuable, I don't know what is. Then again, who really knows what valuable means.
At the end of the day there seems to be four major players in the race for the MVP title. Two favorites, two dark horses, two from each conference.
Each brings something a little different to the table, it will all just depend on the preference on the voters.
So what makes a player most valuable? I guess we will just have to wait and find out.